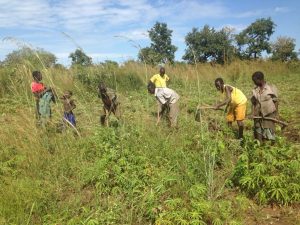 Foundation Linking Together (FLT) is a Non-Profit International Foundation registered with the Dutch Chamber of Commerce in 2017, in The Netherlands.
It was founded and is Tax exempted to help vulnerable groups of people, such as women, girls, unemployed youths, special needs people, elderly people and rural farmers in Africa and The Netherlands. Foundation?s Management Board is led by 2 women and 1 man.
Mission
To link people together, guide, coordinate and empower them to enhance their own personal lives in community at local, regional and international level.
Vision
We want to be a reliable partner for people, NGOs, CBOs, Governments, Municipalities, Co-operations, Churches and Communities at Local, Regional and International level.
Values
To empower individuals to make sound decisions that will enhance their own personal lives in their community.
To continuously help people build skills and develop a clear sense of direction / vision, so that they can successfully accomplish much for themselves, their family and their community, effectively in a sustainable manner.
To inspire people to think differently, so that they can be awakened to new possibilities.
To inspire people to working together to change our world in big and small ways, for the better.
To build cohesive communities that foster unity, productivity, security, safety, good health so that people can live a more fulfilled life.
To propel people forward to shine a light, so that together we can transform our world.
To improve the quality of life of people, their community and their environment globally.
Organization and Board
The Foundation Linking Together is founded on the 14th of December 2017 under Dutch law.
The Board consists of
Ms. M.T.T. van Erp, chair
Ms. E.A. van den Bosch, secretary
Mr. J.B. Ahlers, treasurer
For more information, please consult the Articles of Association (Statuten van de stichting, in Dutch, PDF).