Bringing people together and leading individuals or groups of people in The Netherlands and Africa who want to form producer cooperatives or other groups of working together.
We support groups of people in The Netherlands and Africa on carrying out projects that address issues of gender equality and human rights for women and girls and youth employment. We do this to strengthen the position of women, girls and youth in their communities to ensure their self-reliance and empowerment. Additionally, we work as a catalyst and maintain close coordination with local NGOs, CBOs, Governments and Municipalities to help targeted beneficiaries in the following areas:
Human Rights
We advocate and offer empowerment trainings to women and girls to enable them have gender equality and become able to contribute to their own long-term development and cause social change at household levels in their communities.
We focus on the prevention of human rights abuses, human rights awareness raising, human rights education, human rights advocacy. We ensure and protect the rights of the most vulnerable groups, such as women, girls, children, indigenous groups, special needs people, human rights defenders, old age people, youth and people living in extreme poverty at local, regional and international level.
Project Proposal Writing
We offer guidelines on how to write a successful project proposal. We support people, Community Based Organizations (CBOs), Non-Governmental Organizations (NGOs), Grassroot Organizations (GROs) and Church Communities (CCs) in The Netherlands and Africa to develop and writing successful project proposals and active participation to implement the projects.
Agriculture and Food Security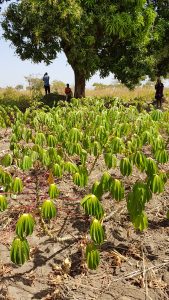 We train rural farmers in Africa to form producer cooperatives and to start income generating activities (entrepreneurships) for sustainable agriculture without depleting available resources.
We stimulate farmers? abilities to modernize farming practices, addressing inequalities in work load between men and women and to increase food production and ensure food security.
We support agricultural activities that lead rural farmers to know how to maintain soil fertility. We empower male farmers to identify, promote gender equality or equity in sharing farm benefits. Finally, we work with rural farmers on how to manage farmland to prevent their farming activities to cause environmental degradation.
Education
We advocate for every individual to have access and attain an equal right to education. We know and believe that, people who have attained education eventually turn out to be beneficial for the communities.
Educated people can have a great impact on the improvement of their daily lives at all levels. We promote human rights and gender equality for young girls and women and securing their rights to exercise independence and freedom of thought in decision making processes.
Exercising their independence and freedom helps women to choose whether, with whom and when to get married to and have a family, with equal access to education, jobs and employment opportunities in their chosen fields.
Youth Employment
We offer technical guidance, tailored training programs with an impact leading to the creation of employment for youth in agricultural sector. Youth employment in agricultural sector allows them not to be a source of instability and conflict in their communities.
It is a matter of inclusive development; whereby, young people be given opportunities and responsibilities to take development forward.
We address employment issues to help number of young people to have incomes, improve livelihoods, reduce poverty and support sustainable agricultural growth. However, youth employment helps them to be involved as productive citizens.
We ensure that, their synergy is harnessed for fighting poverty and unemployment issues, which, delay the growth economies. Youth employment allows them to be active entrepreneurs in agricultural sector. However, entrepreneurships enable youth to foster economic development, poverty reduction and support long-term sustainable growth, production and ensure prosperity.
Healthcare
We advocate against injustices, inequalities and eliminate barriers that prevent people to have their rights and access to healthcare.
We are continuously helping people by educating them to eliminate inequality, so that, everyone has equal rights to access healthcare and social services.